The Best Spots for Your Wedding Photos
Are you looking for the best locations for wedding photos in Tbilisi, Georgia? If so, you have come to the right place! There is no shortage of stunning sites for couples who want to take wedding photos in this city. Situated at the crossroads of Europe and Asia, Tbilisi is a city with a rich history and diverse culture. From the medieval Old Town to the stately Georgian Orthodox churches, there are plenty of beautiful settings for unforgettable wedding photos. And with its winding cobbled streets and picturesque bridges, Tbilisi is every couple's dream.
The Bridge of Peace
This is one of the most popular tourist spots in Tbilisi, making it a great location for photography. In addition, the bridge is lit at night, so it is perfect if you love night-time photos. It is located in the Rike park in the heart of Tbilisi.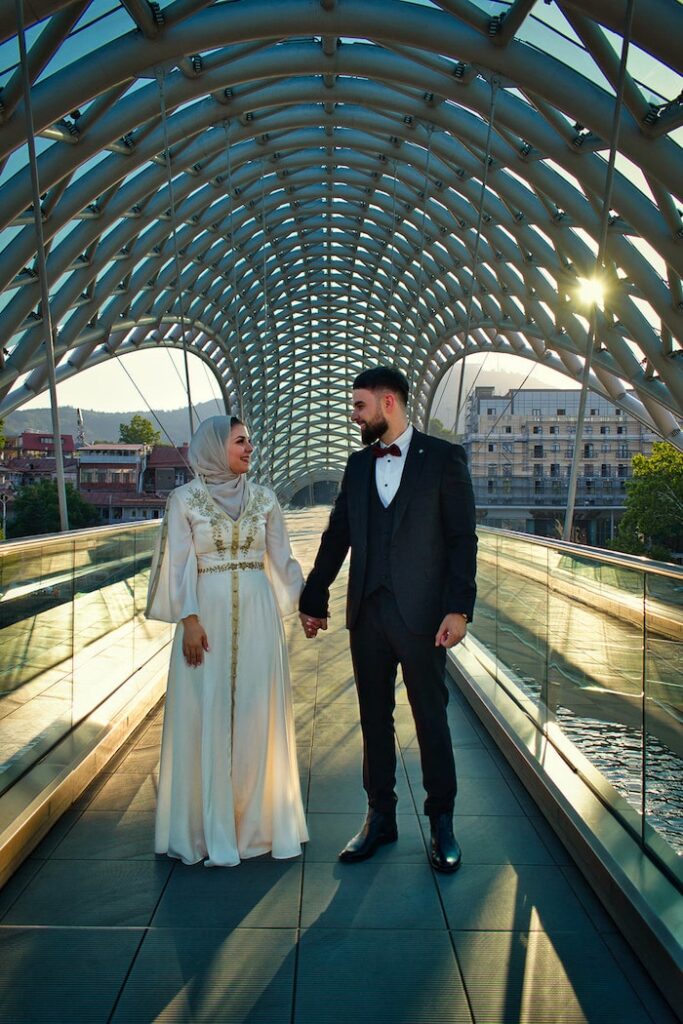 Rike park
The park is one of Tbilisi's most popular places to take wedding photos. It is located in the center of the city, and it offers stunning views of the river and the skyline. The park is also home to a number of sculptures and monuments, which make for beautiful backgrounds for photos. In addition, the park is well-maintained and has a variety of flowers and trees that add color and interest to photos. Rike Park is an ideal location for wedding photos because it provides a beautiful setting for couples to capture their special day with various landmarks within walking distance.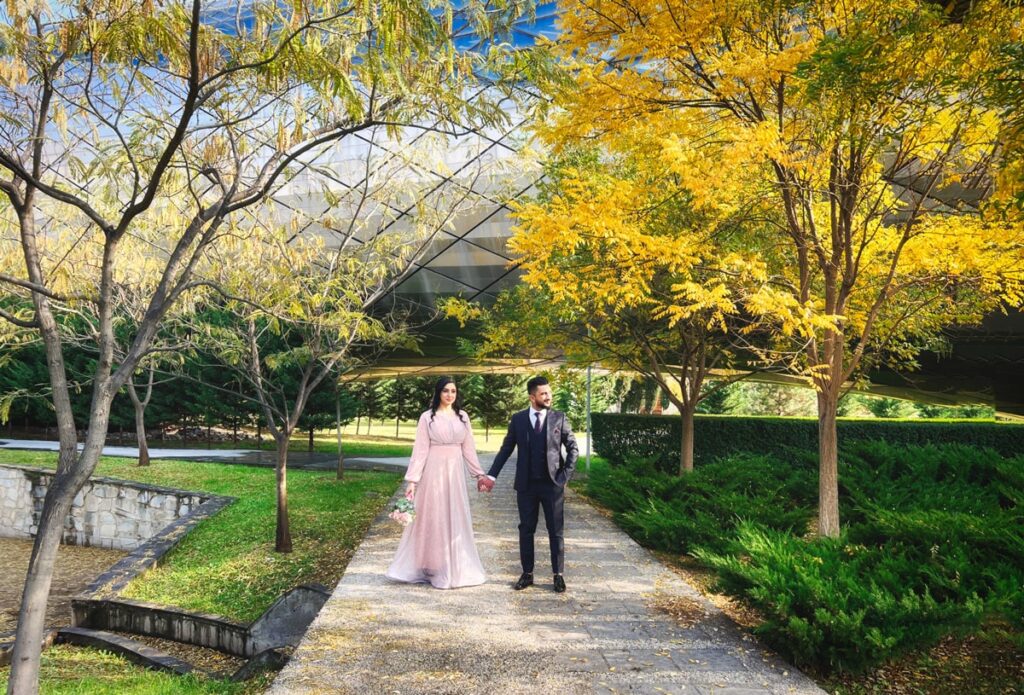 The Old Town
Tbilisi's Old Town is full of beautiful architecture and cobbled streets, making it an excellent place for photography. If you are visiting Tbilisi in the summer, the Old Town is also a great spot to cool down and take a break from the heat during your photo shoot.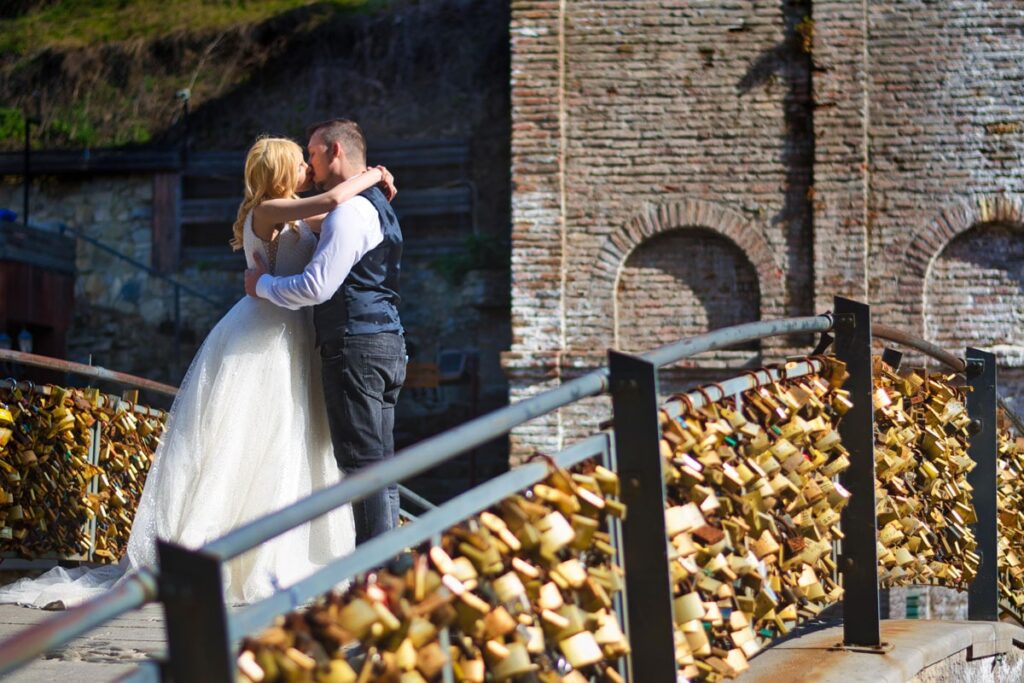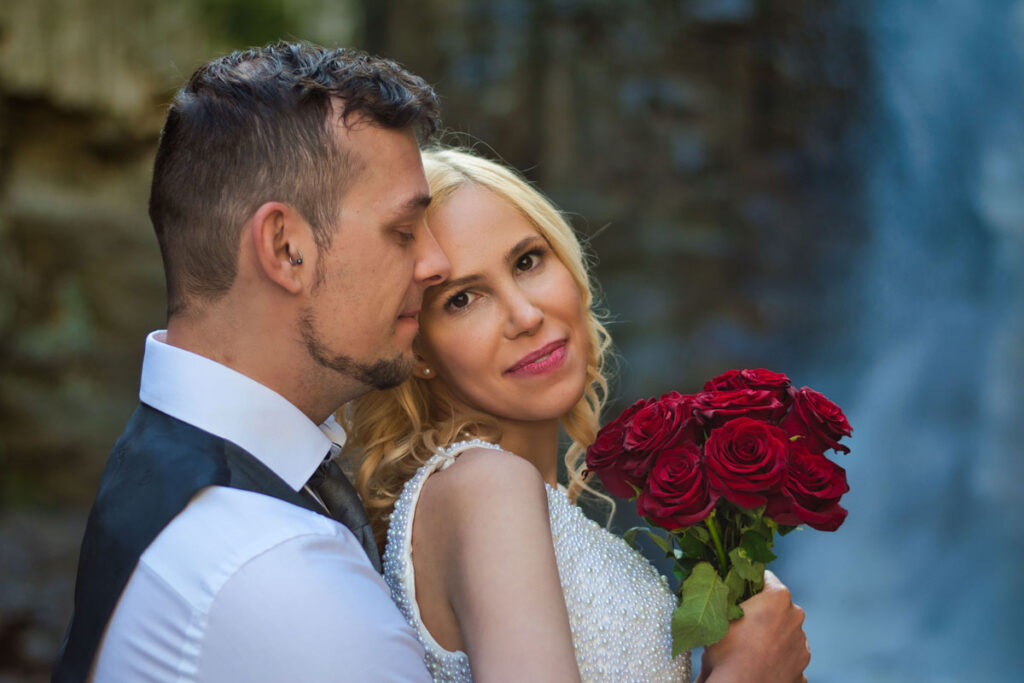 Mtatsminda Park
This is a must-visit spot if you are looking for the best views of Tbilisi. Mtatsminda Park is also a great place to take photos of the city's skyline. Located on the highest mountain near the city, though, it can be a little challenging to get to. View on Google map →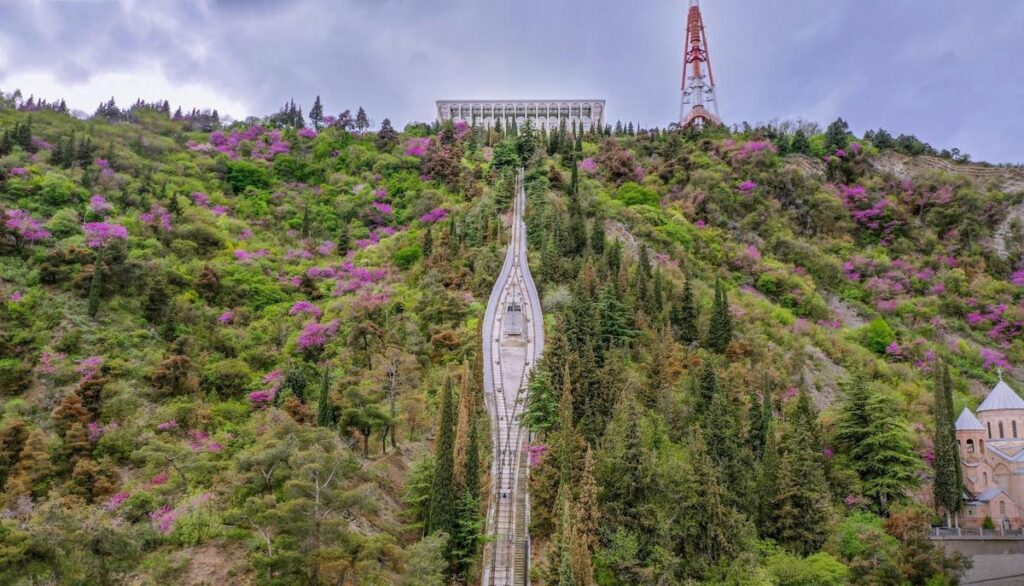 Chronicle of Georgia
The Chronicle of Georgia is a must-see for anyone interested in Tbilisi's history. The structures are also very photogenic, so it makes for a great photo spot. Bear in mind, though, that it can get windy up on the hill in cold seasons. An advantage of going to the Chronicle of Georgia for wedding photography is that you can easily walk to the Tbilisi sea nearby for some stunning photos on the beach.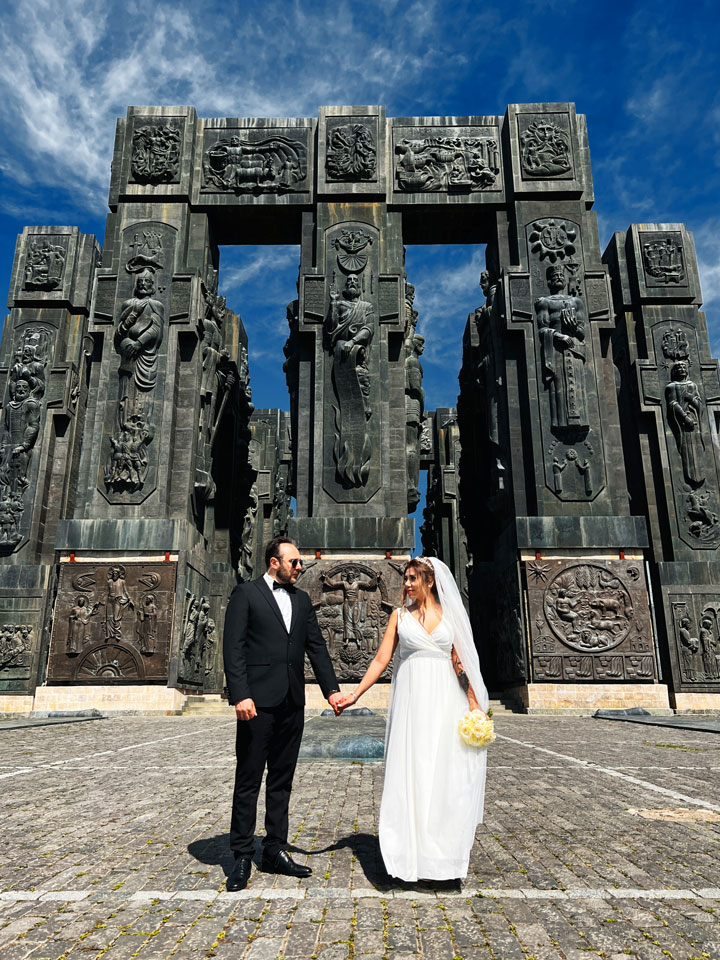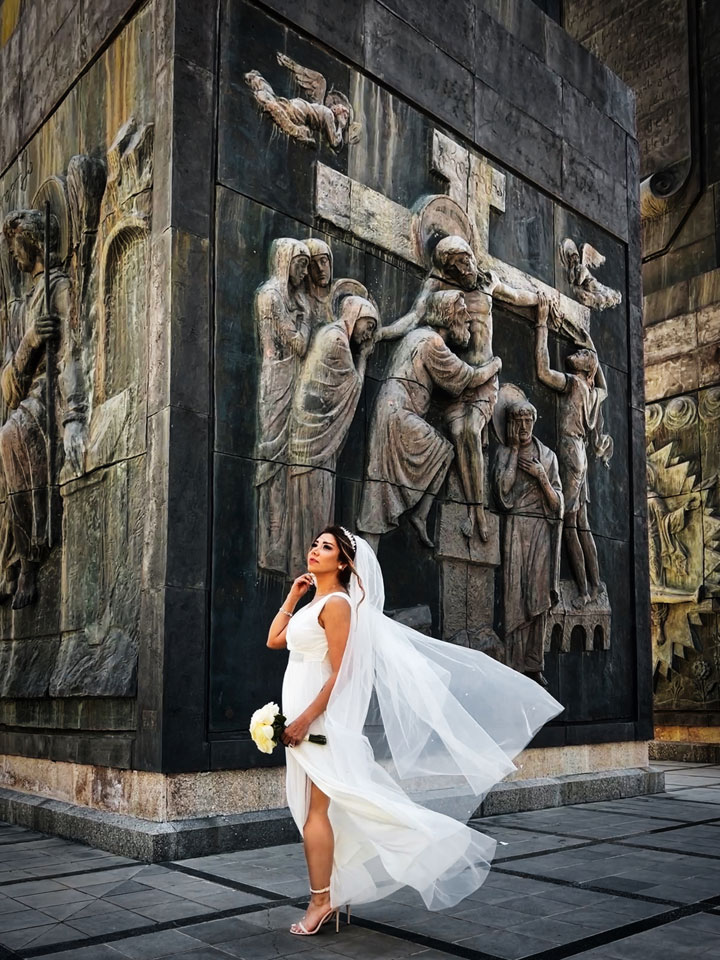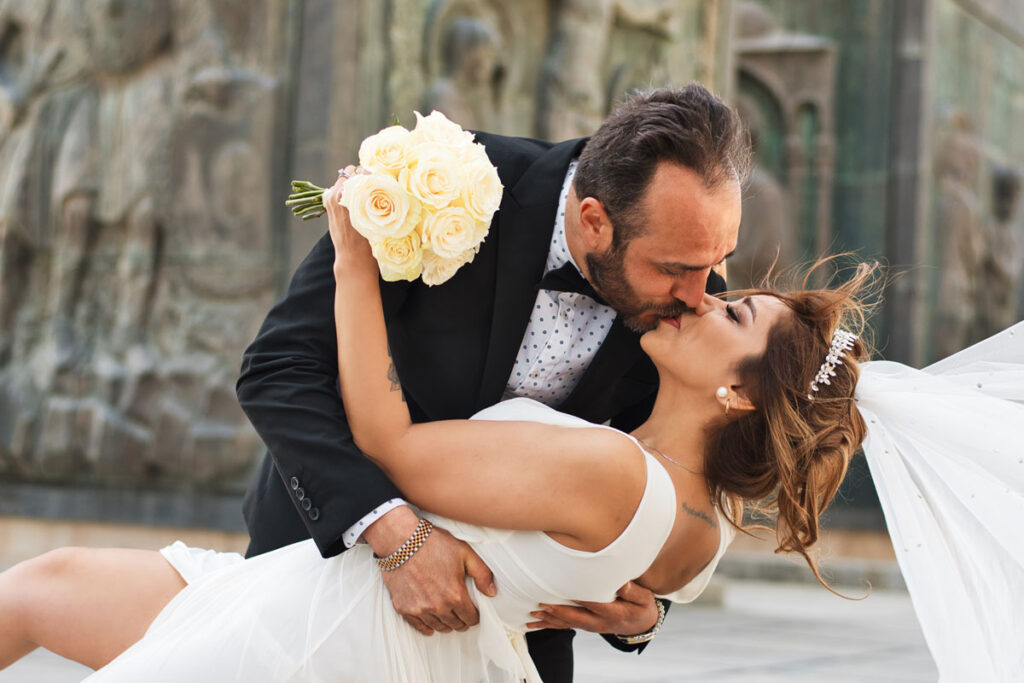 Turtle Lake
Turtle Lake is a beautiful place in Tbilisi that makes for an excellent spot to take wedding photos. For one, the lake provides a stunning backdrop with its calm waters and lush greenery. Additionally, the lake is a great place to capture intimate moments between the bride and groom as they stroll along the waterfront or relax in a boat. Moreover, there are plenty of photo opportunities at Turtle Lake, from close-ups of the happy couple to wide shots that capture the lake's natural beauty. So if you're looking for a scenic location for your wedding photos, be sure to check out Turtle Lake in Tbilisi.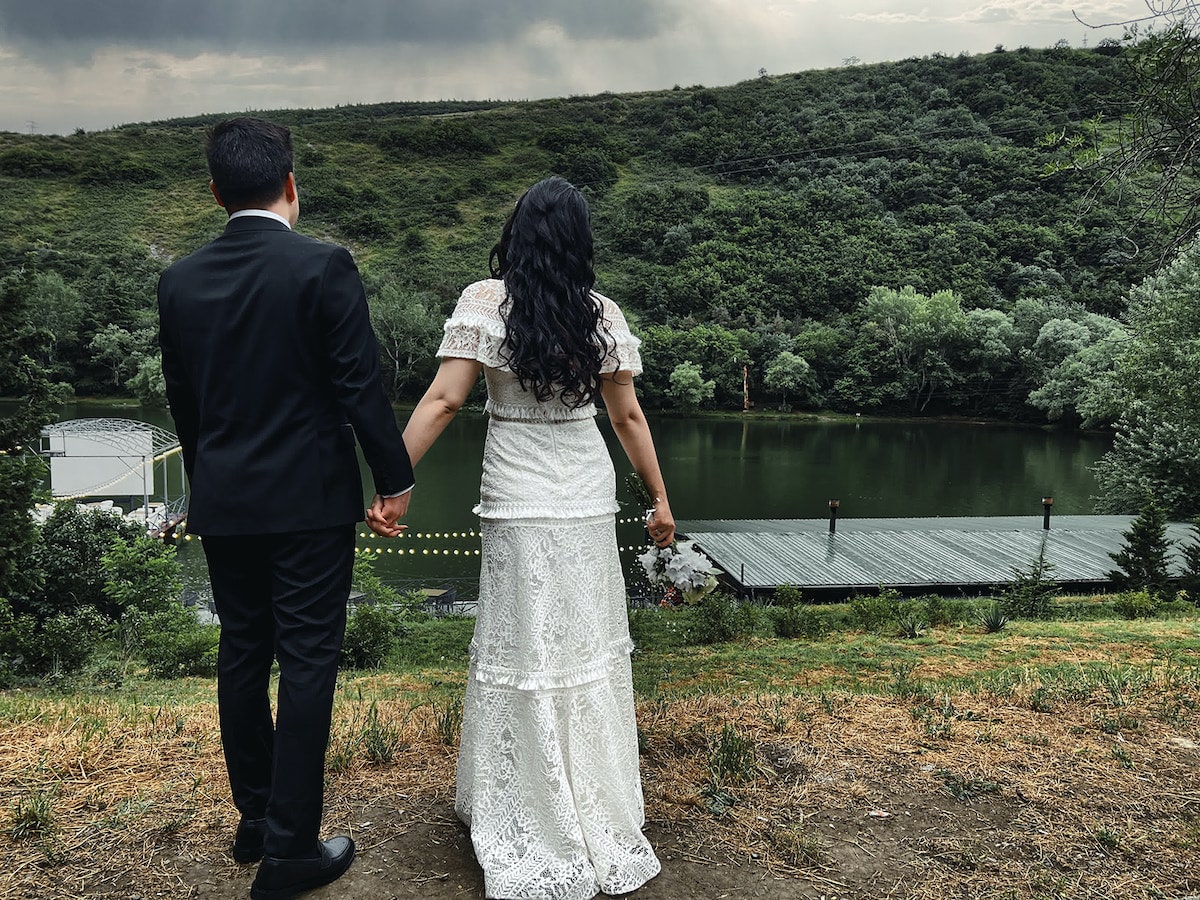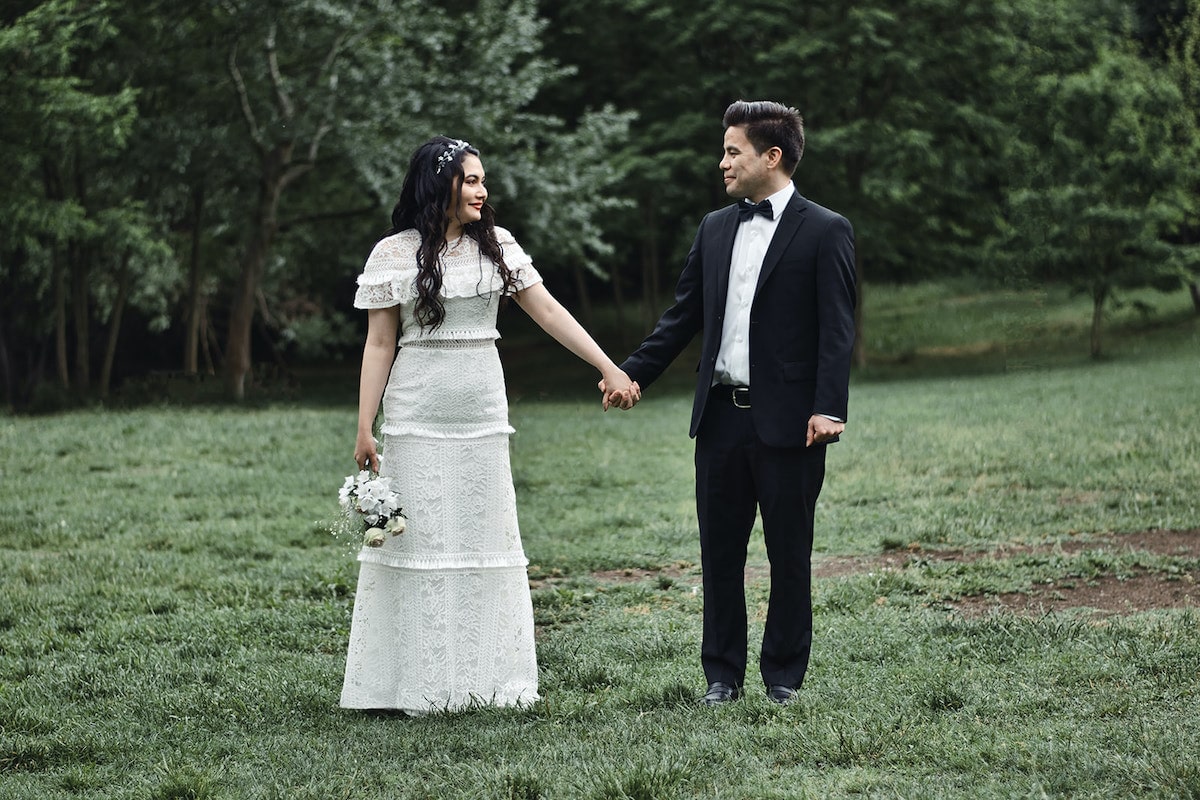 Holy Trinity Cathedral
The Holy Trinity Cathedral (also known as Sameba) in Tbilisi is one of the most beautiful cathedrals in the world. The cathedral's exterior is adorned with intricate carvings and stained glass windows, while the interior is spacious and airy. The cathedral is also located in a picturesque setting, surrounded by green gardens and Tbilisi skyline. As a result, it is no surprise that the Holy Trinity Cathedral is a popular choice for weddings. With its charming atmosphere and breathtaking views, the Holy Trinity Cathedral is the perfect place to start a lifetime of happiness.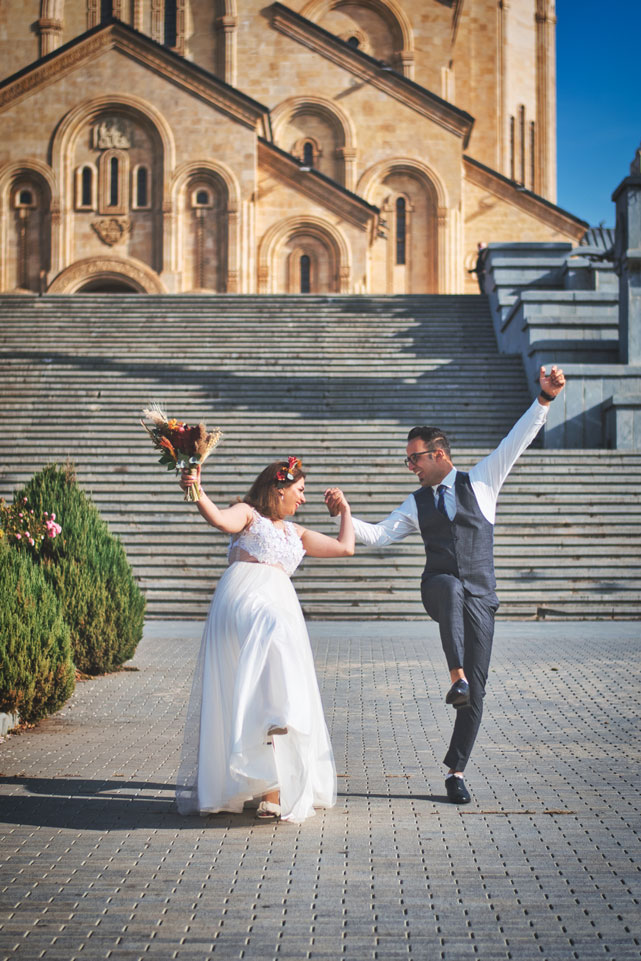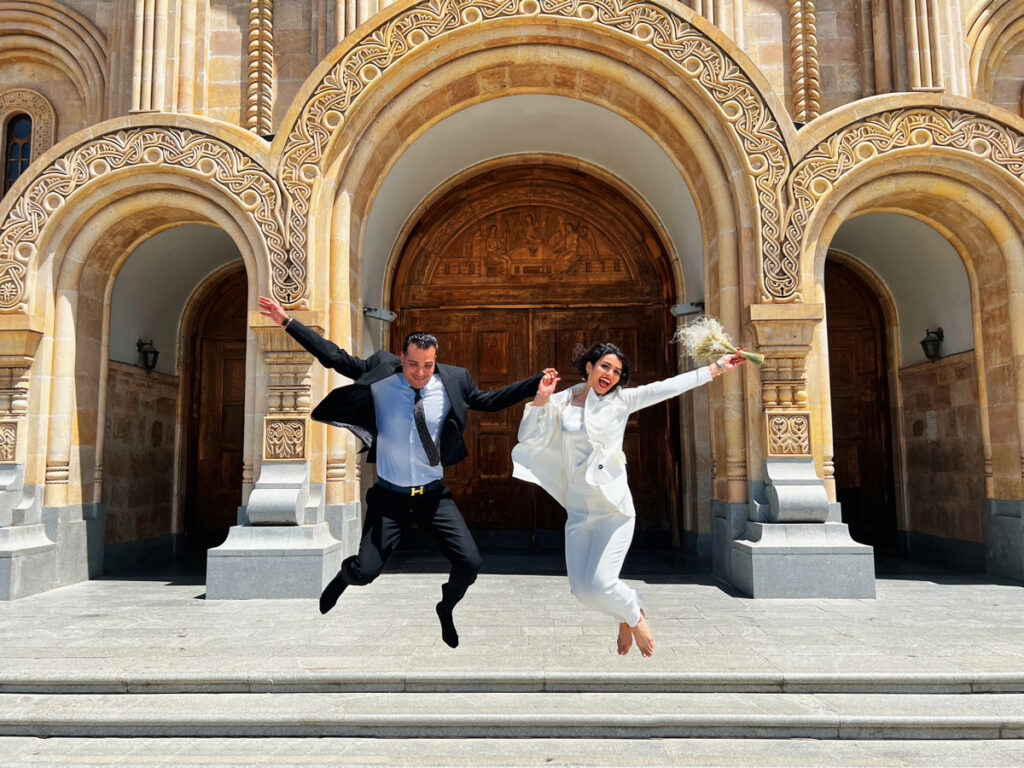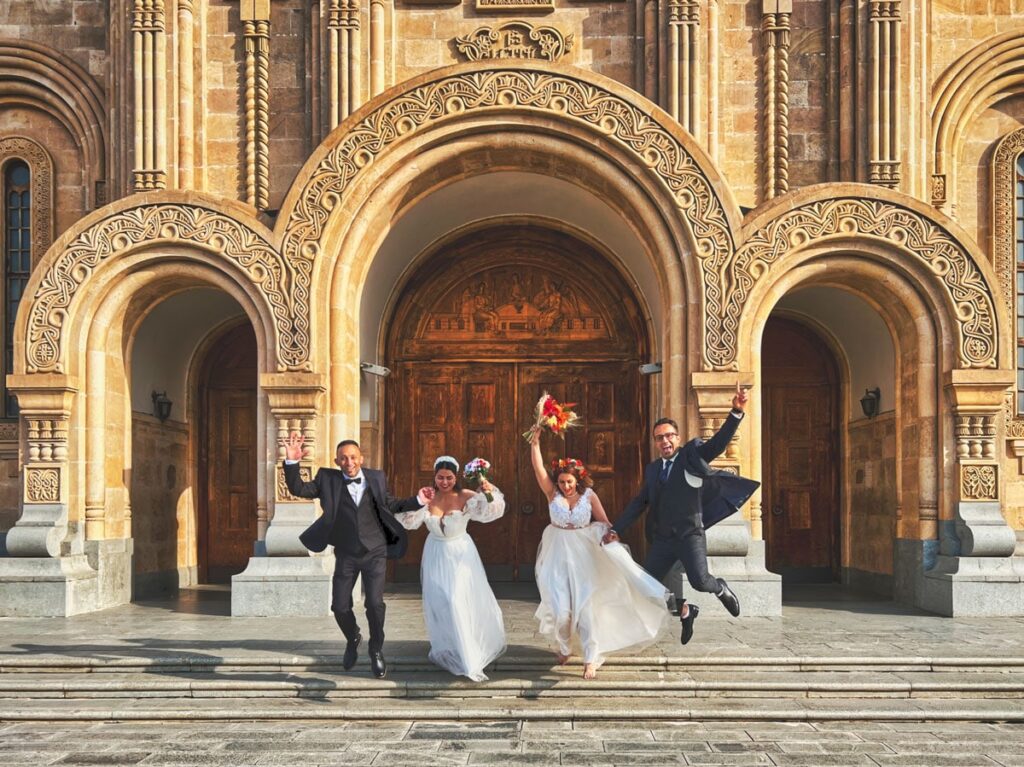 Botanical garden
If you're looking for a truly unique setting for your wedding photos, look no further than the botanical gardens of Tbilisi. With their lush greenery and colorful flowers, these gardens provide the perfect backdrop for capturing your special day. But it's not just the beauty of the gardens that makes them so ideal for wedding photography. The Botanical garden also offers a variety of different landscapes to choose from, including a waterfall and a Japanese garden, so you will definitely find the perfect spot to suit your style. Whether you're looking for a romantic garden setting or a more playful one, the botanical gardens of Tbilisi have something to offer. So why not take advantage of this magical place and have your wedding photos taken in one of the most beautiful places on earth?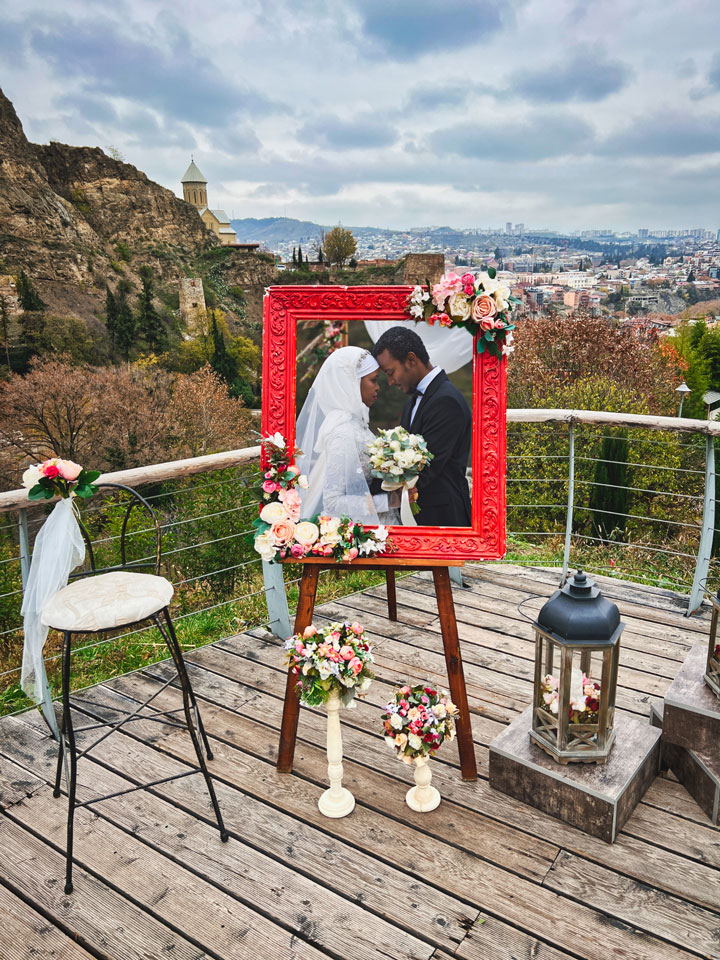 Svetitskhoveli Cathedral
This is one of the most popular tourist destinations in Georgia, and it's also a popular spot for wedding photos. The cathedral was built in the 11th century, and it's known for its ornate architecture and beautiful gardens. The cathedral is located in the city of Mtskheta, and it's surrounded by mountains, making it a perfect backdrop for wedding photos. If you're looking for a beautiful and unique location for your wedding photos, Svetitskhoveli Cathedral is a great choice. Compared to the Holy Trinity Cathedral, this is a much older monument if it is the look you are after.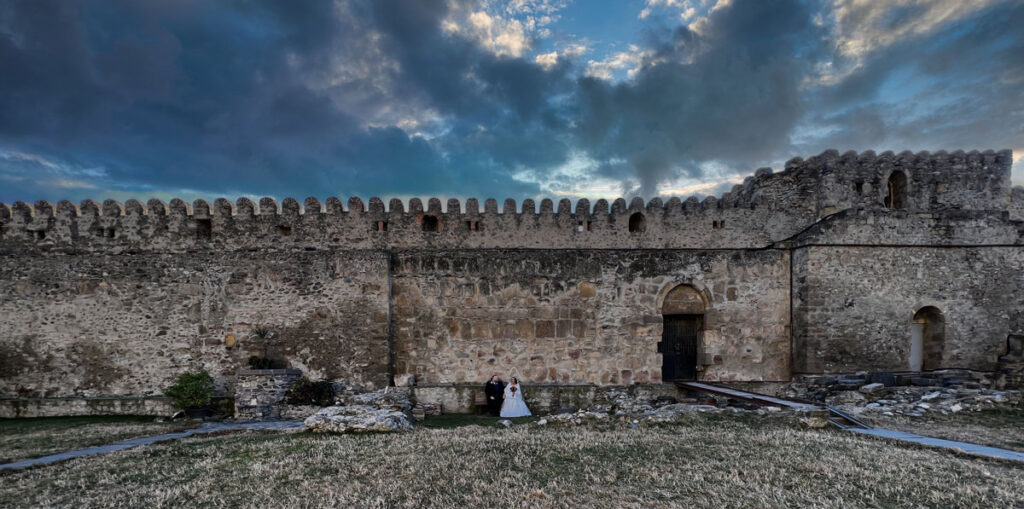 Lisi lake
If you're looking for a breathtaking natural backdrop for your wedding photos, look no further than Lisi lake in Tbilisi, Georgia. Nestled at the base of a picturesque mountain range, the lake is surrounded by lush greenery and offers stunning views in every direction. Whether you're posed against the backdrop of the mountains or standing on the shores of the lake itself, you're sure to end up with gorgeous photos that you'll treasure for a lifetime. And if you're planning on having your wedding ceremony at Lisi lake, you definitely won't be disappointed – it's truly a fairytale setting. So if you're searching for a romantic and enchanting location for your wedding photos, Lisi lake is sure to fit the bill.
Tips for taking great photos in Tbilisi
Now that you know some of the best locations for photography in Tbilisi, here are some tips to have pleasant photo shoot experience while you are in the city:
Dress appropriately
Depending on the time of year, Tbilisi can be pretty hot or cold. Make sure to dress appropriately so that you are comfortable while taking photos. Don't worry about local people's looks; they accept pretty much any type of attire, so wear whatever you see fit.
Travel light
Tbilisi is a very hilly city, so it is best to travel light and only bring the essentials: comfortable shoes, a bottle of water and maybe s small umbrella if there is a chance of rain.
Lighting is everything
Tbilisi is a very sunny city, so make sure to use the natural light to your advantage. The best time to take pictures is early in the morning or late in the afternoon when the sun is not too high in the sky.
Believe it or not cloudy weather is better for photography. Many people mistakenly think that sunny days are the best for photography, but that is not the case. Cloudy days can actually be better for photography because the clouds act as a natural diffuser, softening the light and making it more flattering. So if you're looking to take some great photos in Tbilisi, don't be afraid to wait for a cloudy day.
Take your time
Tbilisi is a beautiful city, so take your time and explore all of the different locations it has to offer. And don't forget to take plenty of photos! With its stunning Tbilisi is a city with a lot to offer, so there's no shortage of great places to take photos. Whether you're looking for a romantic setting or a more playful one, Tbilisi has something to offer.
Is one hour enough?
Any wedding photographer will tell you that one hour is simply not enough time to capture all the special moments of a wedding day. From the bride and groom getting ready to the ceremony, to the first dance and beyond, there are countless cherished moments that deserve to be captured on film. In addition, a good photographer will take the time to get to know the couple beforehand so they can feel comfortable in front of the camera on their big day. With so much to do and so little time, it's no wonder that many couples end up being disappointed with their wedding photos. If you want beautiful photos that you'll treasure for a lifetime, make sure to give your photographer enough time to do their job properly.
Have you seen our photography packages yet?
Your photographer, your local guide
When you're traveling to a new place, it can be helpful to have a local guide show you around. But what if your photographer could also serve as your personal tour guide? In addition to capturing beautiful photos, your photographer can also help you find the best attractions and activities in the area. They can provide insider tips on where to go and what to see, ensuring that you make the most of your trip. And when it comes time to take photos, they will already know all the best spots for getting that perfect shot. So next time you're planning a trip, be sure to ask your photographer if they would be willing to serve as your personal guide. You may just end up with amazing photos and memories to cherish for a lifetime.
Get there early
If you want to avoid crowds and get the best light, it is always best to arrive at your chosen location early. Any seasoned traveler knows that one of the best ways to avoid crowds is to wake up early. This is especially true when it comes to taking photos. Not only will you have the place to yourself, but the light will be better for photography. The same is true of sunset, although you may have to contend with more tourists as they flock to see the golden hour. If you really want to avoid people, your best bet is to visit during the off-season. You may have to deal with some inclement weather, but you'll be able to get those perfect shots without anyone getting in your way.
The importance of your bouquet of flowers
While most brides spend months agonizing over the perfect dress, the perfect flowers often get overlooked. However, the right bouquet can make a big difference on your big day. Not only will it add a touch of beauty and elegance, but it will also fill the air with a lovely fragrance. More importantly, it will give you something to hold on to when your new husband starts to get on your nerves. So don't skimp on the flowers – splurge on the biggest, most beautiful bouquet you can find. It will be worth it when you're able to look back on your wedding photos and breathe in the sweet smell of success.
Tbilisi is a city of flowers, and you can find beautiful bouquets for sale everywhere. Make sure to buy flowers that will complement your outfit and the location of your photoshoot.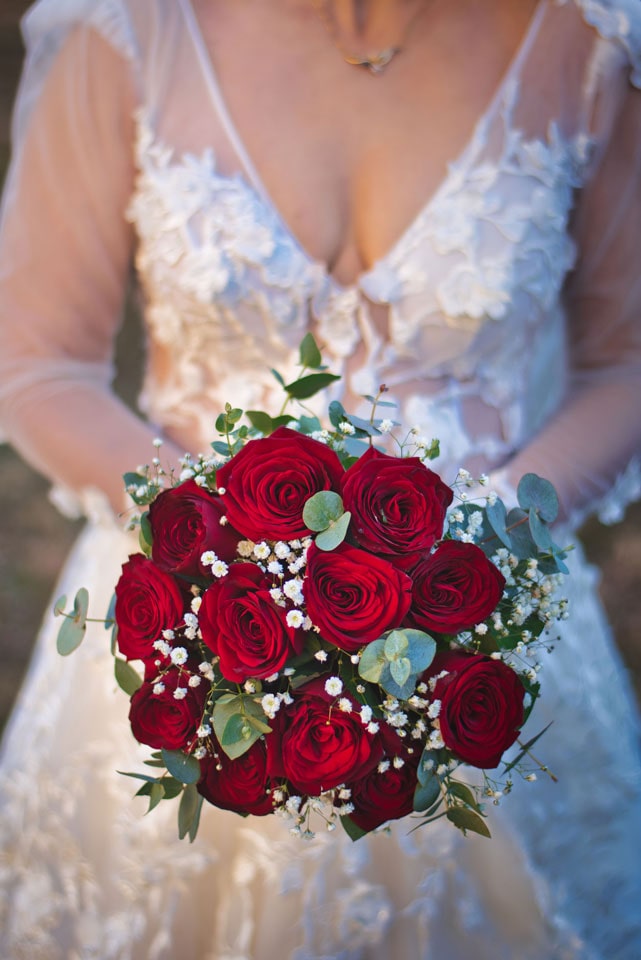 Why choose us?
Your wedding day is one of the most important days of your life, and you want to make sure that every detail is perfect. That's why it's vital to choose a wedding photographer that you can trust to capture the memories of your big day. At Sky Artmakers, we understand the importance of your wedding photos, and we work hard to ensure that every shot is beautiful and timeless. We take the time to get to know you and your fiance so that we can understand your vision for your wedding day. And on the big day itself, we'll be there to capture all the special moments, from the first kiss to the last dance. So if you're looking for a wedding photographer who will create stunning photos you'll cherish forever, choose us.
When it comes to wedding photography, you want to be sure that you are working with a team that has the experience and creativity to capture all the special moments of your big day. Our team has been shooting weddings for years, and we know how to work with different lighting conditions, groups of people, and scenery. We are also patient – we understand that not everything will go according to plan on your wedding day, but we will do our best to make sure that you are happy with the photos we take. So if you are looking for a wedding photography team to provide beautiful, creative, and memorable photos, please contact us. We would be more than happy to discuss your specific needs and preferences.